Humanimpacti5-hi5
Training / Formation
Hi5 offers a suite of trainings and workshops, for individuals, organizations and companies. Check our menu of ready-to-deliver trainings and set dates, or contact us to organize these or bespoke in-house courses.
Quick access to trainings:
WORKSHOP SERIES: Diversity & Inclusion in Action
A practical skill-building series for thriving, respectful professional environments 
This workshop series is about just that – good workplace DEI in action, from hiring and management practices to peer and team practices. It provides a fresh look at DEI, no longer through the sole lens of compliance or even corporate social responsibility, but through the lens of living values and pragmatism.
Workplace Diversity and Inclusion (DEI) Essentials
An introductory session on the basics of theory and practice
12 May 2023, 9:00-12:00 at the Impact Hub, Geneva.
A journey through the evolution of DEI will bring you to the most recent research into 'business cases' for DEI. The workshop provides a state of the art of basic concepts, forms of workplace diversity well beyond gender, areas of discrimination in the workplace, and how to address these through DEI practices. If you already know about DEI, this can be a refresher, and if you are new to or interested in DEI, this is your window of opportunity to come on board. It paves the way to a practical approach to DEI in the workplace, no matter at what level of the organization you work.
Values & Trust
Connecting to the greater good. Leading with personal and professional values that enhance inclusivity
2 June 2023, 9:00-12:00 at the Impact Hub, Geneva.
This workshop aims first at the individual and provides a pathway for personal values clarification and how to connect to and embody professional and organizational values. It will provide tools for how DEI work can be rooted in unifying values. It also paves the way for the following three workshops on unconscious bias, sexual harassment, and bystander intervention.
Unconscious bias
What are we thinking? Dealing with unconscious bias in everyday work
7 July 2023, 9:00-12:00 at the Impact Hub, Geneva.
What lies behind what we often call 'intuition' or 'gut feeling'? How much of our workplace interactions, choices and decisions, and 'objective' evaluations at work are rooted in our true rational and conscious mind? This session is the start of a journey into understanding, n acknowledging, challenging, and training ourselves to reduce implicit bias in our workplace interactions. It provides a key to removing barriers to inclusion, to better performance, and to decision making.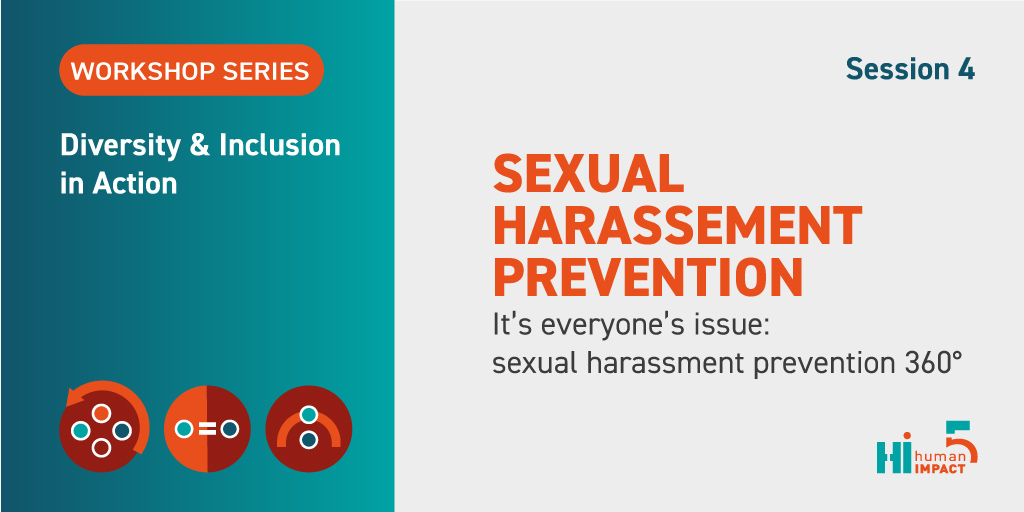 Sexual harassment prevention
It's everyone's issue. Sexual harassment prevention 360°
15 Setember 2023, 9:00-12:00 at the Impact Hub, Geneva.
Talking about sexual harassment can be uneasy and clichés abound. In this workshop we first break the clichés with data that brings all participants to the table. Sexual harassment affects everyone. The workshop clarifies what sexual harassment is and is not – from personal experience 'grey zones' to legal definitions. It situates sexual harassment within the range of workplace discrimination and barriers to career advancement, and helps participants understand what to do if it happens to them, and if it happens to someone else – appropriately and meaningfully. Key risk factors and prevention measures are addressed.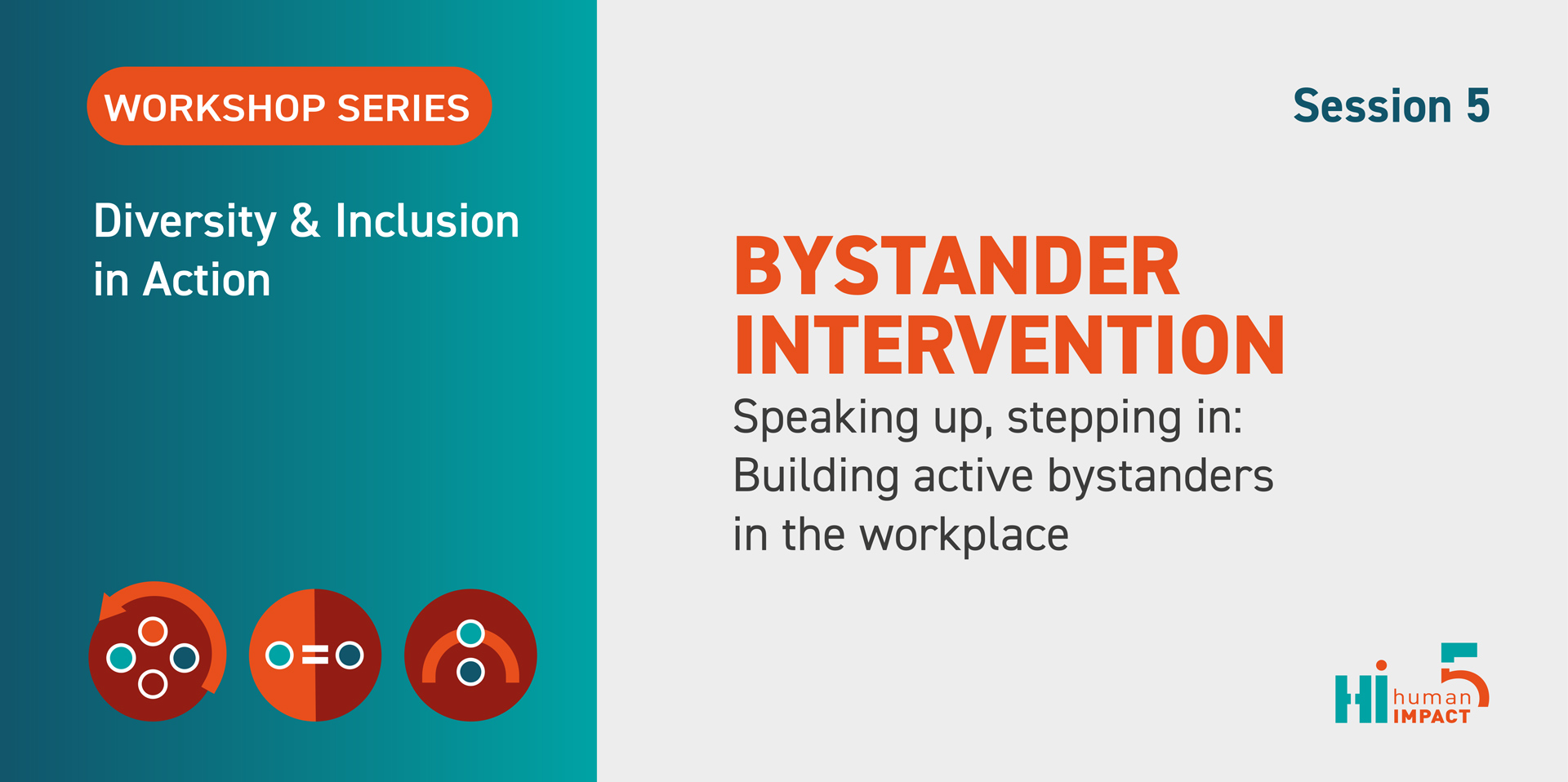 Bystander intervention
Speaking up, stepping in. Building active bystanders in the workplace
13 October 2023, 9:00-12:00 at the Impact Hub, Geneva.
If you have ever witnessed harassment, bullying, or other unethical behaviours and felt unease, this workshop is for you. It will help you connect to the values that may compel or prevent you from doing what you know is right. It will provide you with the tools to be a reliable colleague, whether a direct or indirect 'bystander'. Bystander intervention is key to DEI and to creating respectful workplaces.
Inclusive meetings
Meetings that matter. Inclusive meeting technique toolbox
10 November 2023, 9:00-12:00 at the Impact Hub, Geneva.
Psychological safety is crucial to well-performing teams and to personal development in the workplace. It is what ensures that staff come with game-changing ideas, flag risks that require mitigation, and are able to just be themselves in a team, fearlessly. This workshop will explore various techniques (starting from the basics) of inclusive meetings.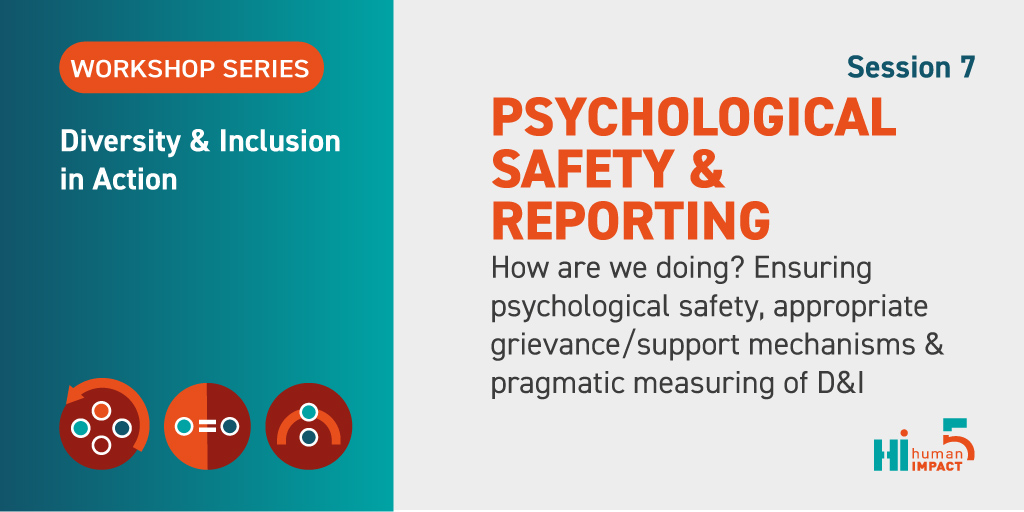 DEI Policy & issue reporting analysis
How are we doing? Ensuring safety for appropriate grievance and support mechanisms & conducting a complaints reception session
8 December 2023, 9:00-12:00 at the Impact Hub, Geneva
This workshop is in many ways the 'cherry on top' of the DEI menu. It aims at reviewing pitfalls and best practices of policies and grievance mechanisms for reporting on issues of discrimination and psychosocial risk. It will cover the basics of DEI policy elements, provide a framework for analysing the complaints mechanism or for building one that is meaningful and appropriate. It will also cover how to structure and conduct a session of receiving a complaint in a safe way based on the needs of the person seeking your counsel, including de-escalation techniques when necessary.
Time to Think
Foundation Course
Dates coming soon 2023
When is the last time someone listened to you fully, without interrupting, until you went as far and as deep as you could in your own thinking? We think we need to offer solutions when people come to us for counsel, but often the solution is there already within but the environment in which our thinking can reach the solution never presents itself. Nancy Kline's 'The Thinking Environment' is a radical and transformational form of attention and listening that empowers and autonomizes those who experience it. This Foundation Course, co-facilitated with an accredited 'Time to Think' facilitator, offers the basic tenets (known as the Ten Components of a Thinking Environment®) and will offer the experiential learning for participants to master the basic bilateral and group applications for providing a Thinking Environment and operating within it.
Full series with a discount
This workshop series is about just that – good workplace D&I in action, from hiring and management practices to peer and team practices. It provides a fresh look at D&I, no longer through the sole lens of compliance or even corporate social responsibility, but the lens of living values and pragmatism.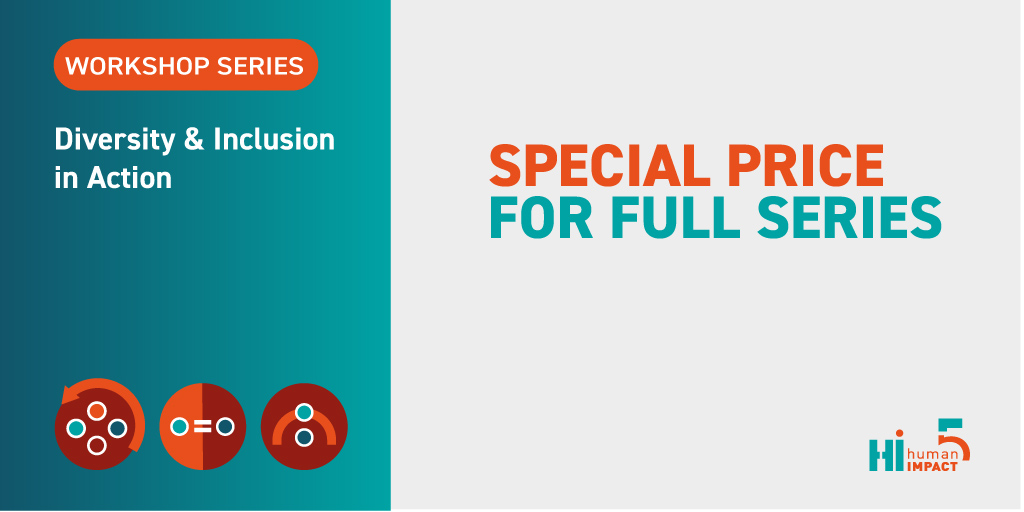 FORMATION EN DIVERSITE ET INCLUSION
Une série d'ateliers pratiques à Genève pour créer des environnements de travail stimulants et respectueux.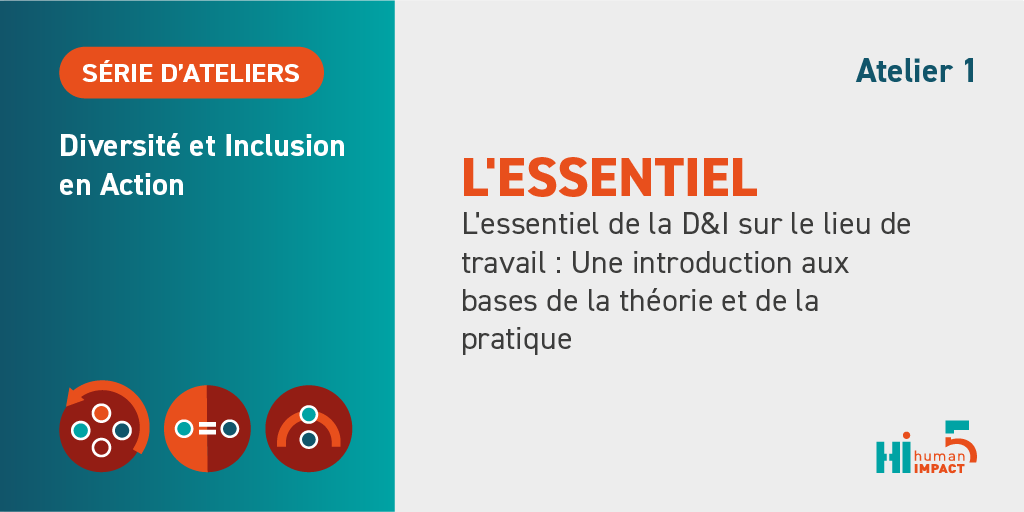 L'essentiel de la DEI sur le lieu de travail
Une introduction aux bases de la théorie et de la pratique Il est recommandé de suivre cette session avant les autres ateliers.
12 mai 2023, 14h00 – 17h00 à l'Impact Hub à Genève.
Un voyage à travers l'évolution de la DEI vous amènera aux recherches les plus récentes sur les avantages de la D&I. L'atelier fait le point sur les concepts de base, les diverses formes de diversité sur le lieu de travail, bien au-delà du genre, les domaines de discrimination et la manière de les aborder par le biais des pratiques de DEI. Si vous connaissez déjà la D&I, il peut s'agir d'une remise à niveau, et si vous êtes nouveau ou intéressé par la DEI, c'est l'occasion de devenir partie prenante. Il ouvre la voie à une approche pratique de la DEI sur le lieu de travail, quel que soit le niveau de l'organisation auquel vous travaillez.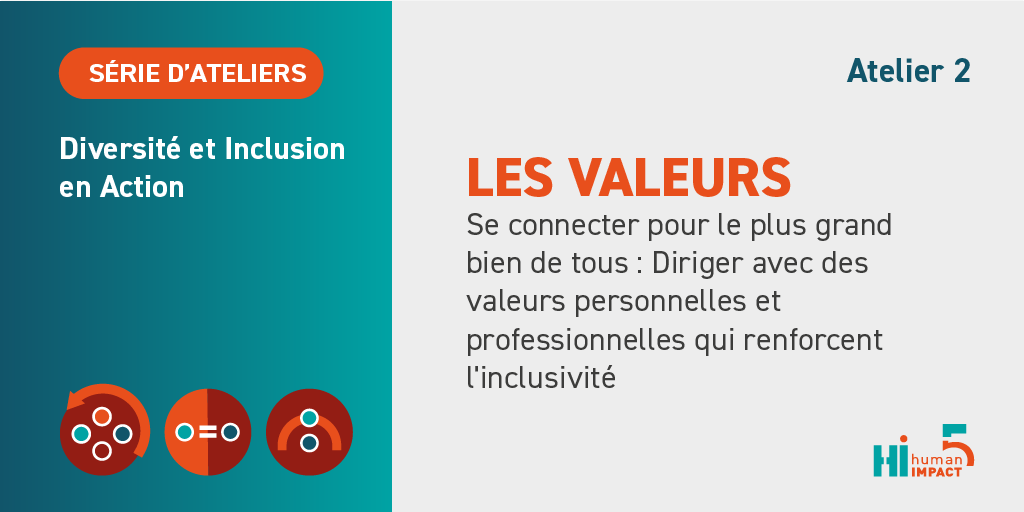 Les valeurs et la confiance
Se connecter pour le plus grand bien de tous : Diriger avec des valeurs personnelles et professionnelles qui renforcent l'inclusivité
2 juin 2023, 14h00 – 17h00 à l'Impact Hub à Genève.
Cet atelier s'adresse d'abord à l'individu et propose une voie pour la clarification de ses valeurs personnelles et la manière de se connecter aux valeurs professionnelles et organisationnelles et de les incarner. Il fournit des outils sur la manière dont la D&I peut être ancrée dans des valeurs unificatrices. Il prépare également le terrain pour les trois ateliers suivants sur les préjugés inconscients, le harcèlement sexuel et l'intervention des témoins.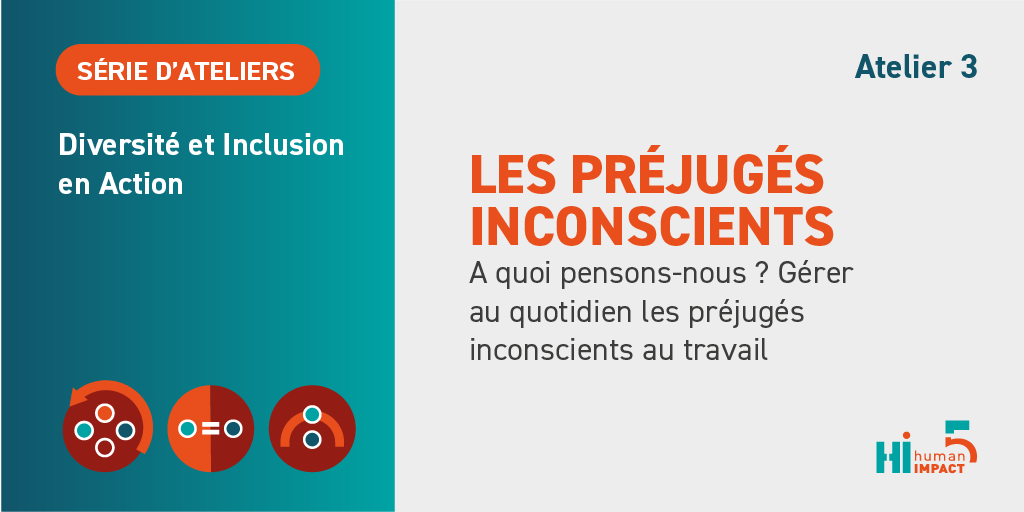 Les biais implicites
A quoi pensons-nous ? Gérer au quotidien les préjugés inconscients au travail
7 huillet 2023, 14h00 – 17h00 à l'Impact Hub à Genève.
Que se cache-t-il derrière ce que nous appelons souvent "intuition" ou "instinct" ? Dans quelle mesure nos interactions, nos choix et nos décisions sur le lieu de travail, ainsi que l'évaluation "objective" que nous en faisons, sont-ils enracinés dans notre véritable esprit rationnel et conscient ? Cet atelier vous mènera vers la compréhension, la mise en évidence, la remise en question et votre propre formation pour réduire les préjugés (ou biais) implicites dans nos interactions au travail. Il fournit une clé pour éliminer les obstacles à l'inclusion, à de meilleures performances et à la prise de décision.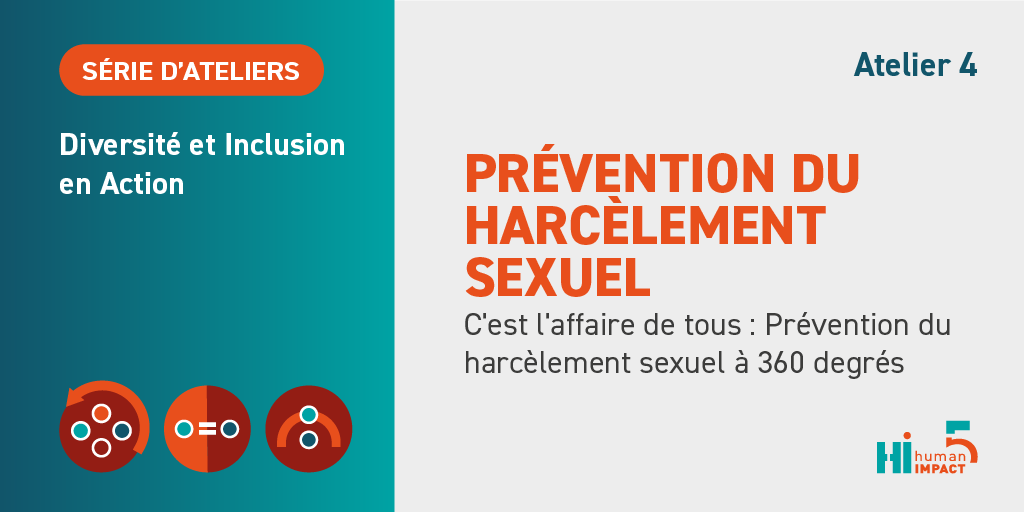 Prévention du harcèlement sexuel
C'est l'affaire de tous : Prévention du harcèlement sexuel à 360 degrés
15 septembre 2023, 14h00 – 17h00 à l'Impact Hub à Genève.
Il n'est pas toujours facile de parler de harcèlement sexuel et les clichés abondent. Au cour de cet atelier, nous commençons par briser les clichés avec des données qui amènent tous les participants à la table. Le harcèlement sexuel concerne tout le monde. L'atelier clarifie ce qu'est et n'est pas le harcèlement sexuel – de "zones grises" de l'expérience personnelle aux définitions légales. Il situe le harcèlement sexuel dans le cadre de la discrimination sur le lieu de travail et des obstacles à l'avancement professionnel, et aide les participants à comprendre ce qu'il faut faire si cela leur arrive, et si cela arrive à quelqu'un d'autre – de manière appropriée et significative. Les principaux facteurs de risque et les mesures de prévention sont abordés.
Intervention des témoins
S'exprimer, intervenir : Encourager les témoins actifs sur le lieu de travail
13 octobre 2023, 14h00 – 17h00 à l'Impact Hub à Genève.
Si vous avez déjà été témoin de harcèlement, d'intimidation ou d'autres comportements contraires à l'éthique et que vous avez ressenti un malaise, cet atelier est pour vous. Il vous aidera à vous connecter aux valeurs qui peuvent vous contraindre ou vous empêcher de faire ce que vous savez être juste. Il vous fournira les outils nécessaires pour être un collègue fiable, que ce soit en tant que témoin direct ou indirect. L'intervention du témoin est la clé de la DEI et de la création de lieux de travail respectueux.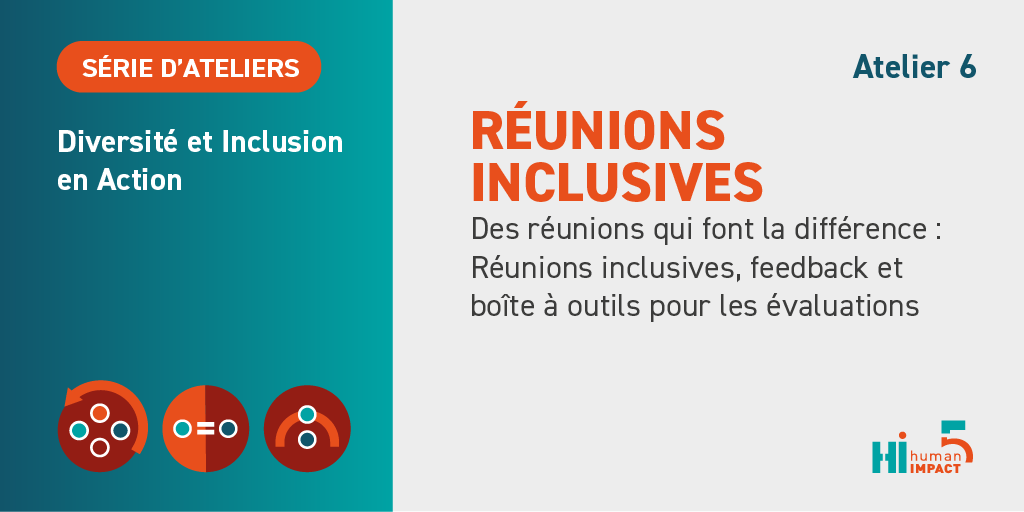 Réunions inclusives
Des réunions qui font la différence : Réunions inclusives, la boîte à outils
10 novembre 2023, 14h00 – 17h00 à l'Impact Hub à Genève.
La sécurité psychologique est essentielle au bon fonctionnement des équipes et au développement personnel sur le lieu de travail. C'est ce qui permet au personnel de proposer des idées novatrices, de signaler les risques à atténuer et d'être simplement lui-même dans une équipe, sans crainte. Cet atelier explore diverses techniques (en partant des bases) de réunions inclusives.
Analyse de Politiques DEI et dispositifs de soutien et de plaintes
Où en sommes-nous ? Garantir la sécurité psychologique, les mécanismes de plaintes/de soutien appropriés et l'estimation pragmatique de la D&I.
8 décembre 2023, 14h00 – 17h00 à l'Impact Hub à Genève.
Cet atelier est à bien des égards la "cerise sur le gâteau" de l'approche D&I. Il vise à passer en revue les points importants de votre politique DEI (ou Code de Conduite), des pièges et les meilleures pratiques en matière de mécanismes de réclamation et de signalisation des problèmes de discrimination et de risques psychosociaux. Il couvre les éléments de base d'une politique de D&I, fournit un cadre pour analyser les mécanisme de réclamation ou pour en construire un qui soit significatif et approprié. A travers des scénarios concrets, il développe la capacité de structurer et mener une séance de réception d'une plainte.
Le temps de la réflexion
Cours de base
Dates à venir en 2023
À quand remonte la dernière fois où quelqu'un vous a écouté pleinement, sans vous interrompre, jusqu'à ce que vous alliez aussi loin et aussi profondément que possible dans votre propre réflexion ? Nous pensons que nous devons offrir des solutions lorsque les gens viennent nous demander conseil, mais souvent la solution est déjà là, mais l'environnement dans lequel notre pensée peut atteindre la solution ne se présente jamais. L'environnement propice à la réflexion – 'The Thinking Environment' – de Nancy Kline est une forme radicale et transformationnelle d'attention et d'écoute qui donne du pouvoir et de l'autonomie à ceux qui en font l'expérience. Ce cours de base, co-animé par un animateur accrédité de 'Time to Think', présente les principes de base (connus sous le nom des dix composantes d'un environnement propice à la réflexion – 'Ten Components of a Thinking Environment®') et offre un apprentissage expérientiel permettant aux participants de maîtriser les applications bilatérales et de groupe de base.
Book an in-house or tailored training

 
Réservez une formation dans le lieu de travail ou sur mesure